Being prepared is more important than being lucky when it comes to hunting. I say this because being lucky won't put the proper tools in your pack for those moments when you have the opportunity to be lucky. Among many other gadgets and tools an outdoorsman uses during their hunting season, a knife is the life saver in many situations. I have found that I use my knives more than any other tool in my pack. The only other piece of equipment I use more than my knives are my boots and camouflage.
Selecting the right knife for the proper situation is crucial. Just as crucial as wearing the right weighted apparel or having the right size pack for the hunting you are doing. I carry 3 knives on me between my pack and my pocket while in the woods. These three consist of, a multi-tool with a knife, a fixed blade, and a replaceable blade knife.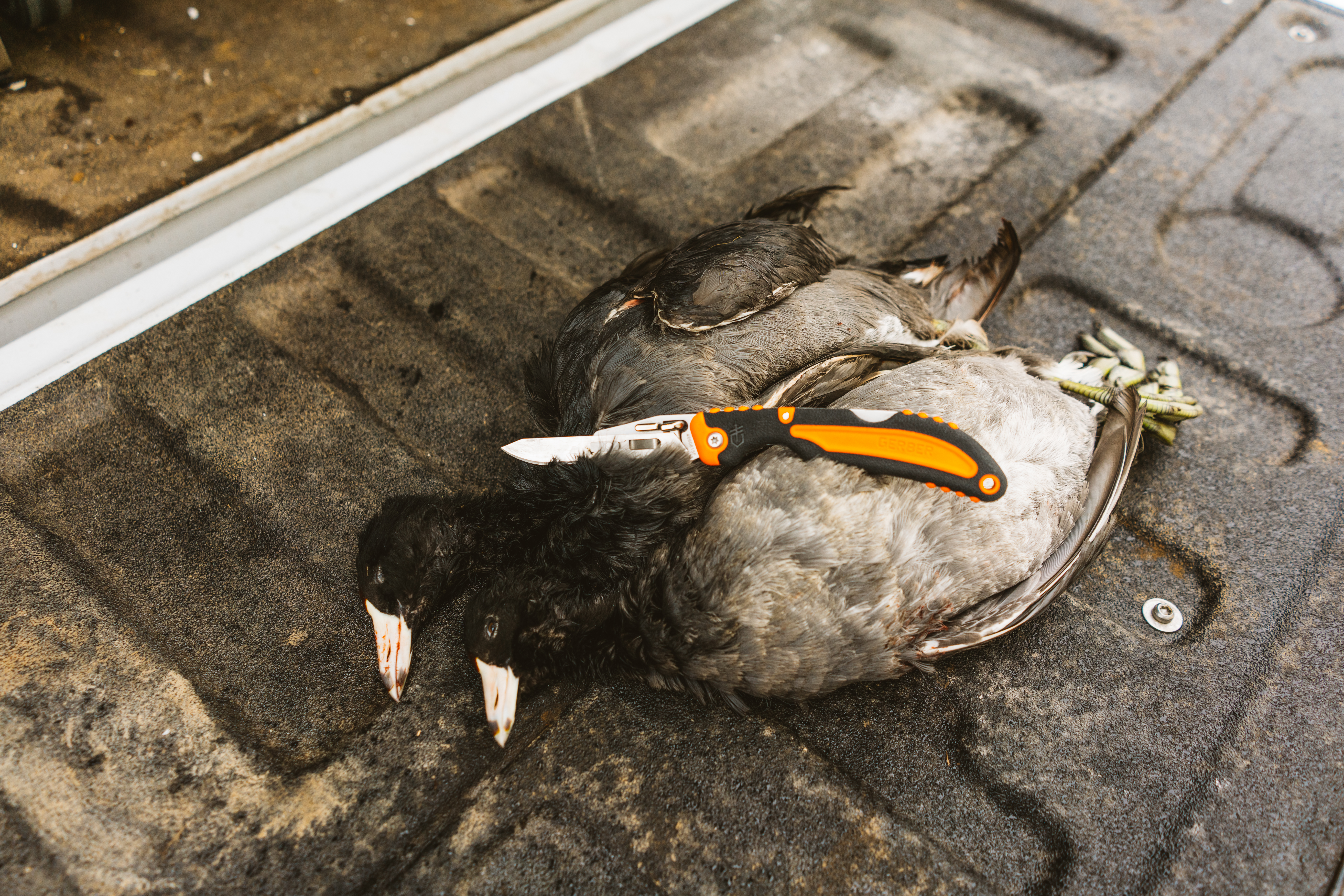 I find myself using the replaceable blade knife more than the other two out of convenience and habit. My replaceable blade knife of choice is the Gerber Vital Pocket Folder. I swear by this knife for its surgically sharp blades and the safe release for blade exchanges.
Within the last 10 years, surgical blade knives have become very popular in the hunting industry. The frontier in this space has brought something new to the field-dressing task of hunting with the replaceable, extremely sharp blades. However, they made one mistake that Gerber has corrected. The Gerber Vital Pocket Folder has a blade release button, technology in which they have coined the "Split Sec Tech".
The quick release button allows the old blade to slide forward for removal, this makes way for a new blade that easily slides and locks into place. Split Sec Tech is the key selling point that made me a believer in this knife over any other surgical razor blade knife. Competitor knives require multi-tools to remove the blade once the blade gets dull. There are a few other features of the Gerber Vital Pocket Folder that make this knife my go-to. The rubber over mold on the handle for a better grip, and its ability to breakdown to store in your pack.
Gerber Vital Pocket Folder
The Gerber Vital Pocket Folder has an overall length of 6.9" and takes #60 razors as replacement blades. Gerber makes a larger knife of similar style as the Vital Pocket Folder called the Vital Big Game Folder. This knife has an overall length of 11" and has a similar shape but longer handle. The Vital Big Game Folder takes a different blade type, which is not as common as the #60 or #60A that most replacement razor blade knives use.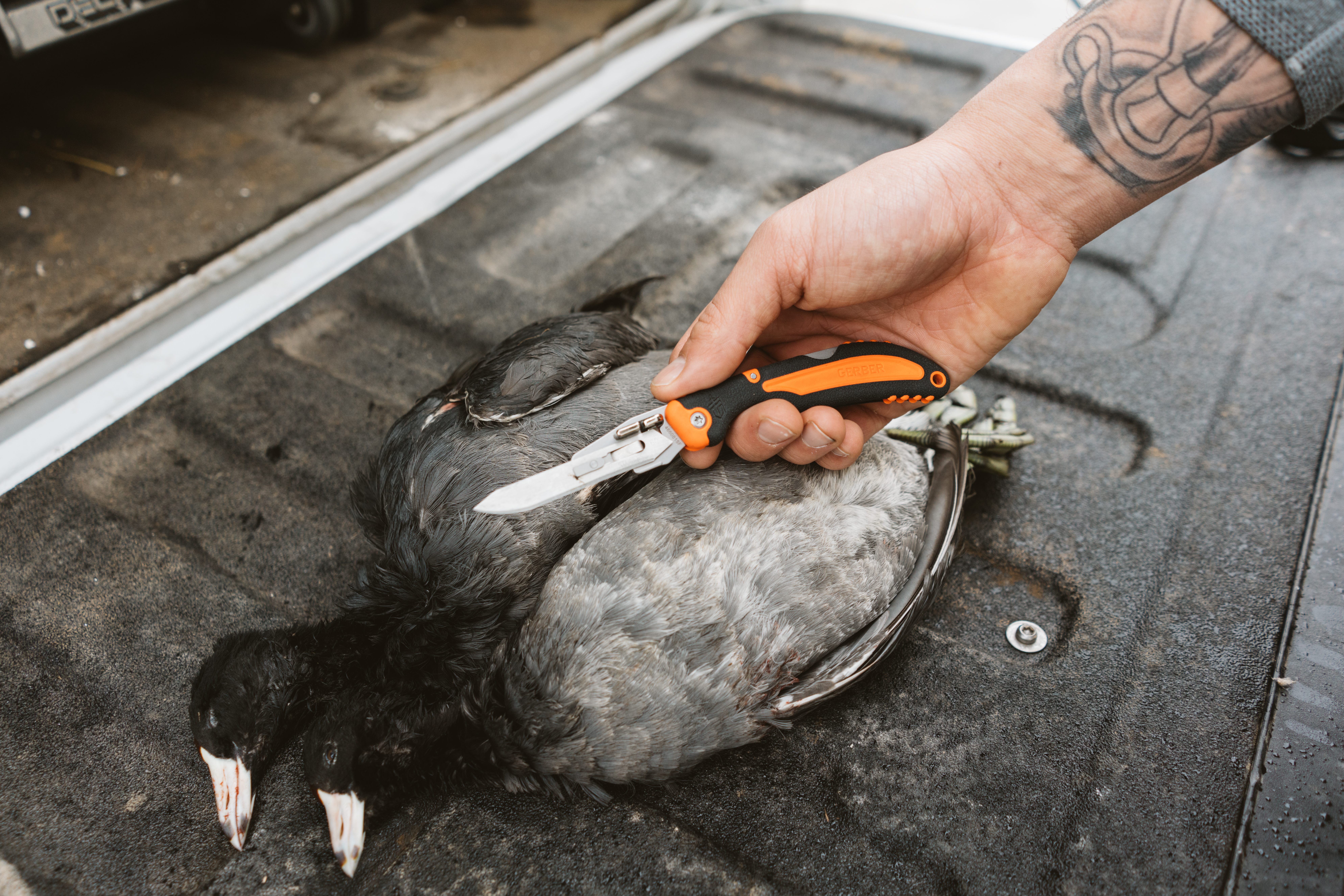 The second reason I love using the Gerber Vital Pocket Folder is the replacement blade pack made by Gerber. Gerber developed a replacement blade pack made of hard plastic with a push to release new blade system as well as a slot for storing used blades. The pack comes with 12 replacement blades and can store just as many in the used. This gives Gerber an edge over their competition. Their blades are stored safely in the hard-plastic container. Knives of the competition come in foil-like packaging, with nowhere to discard used blades.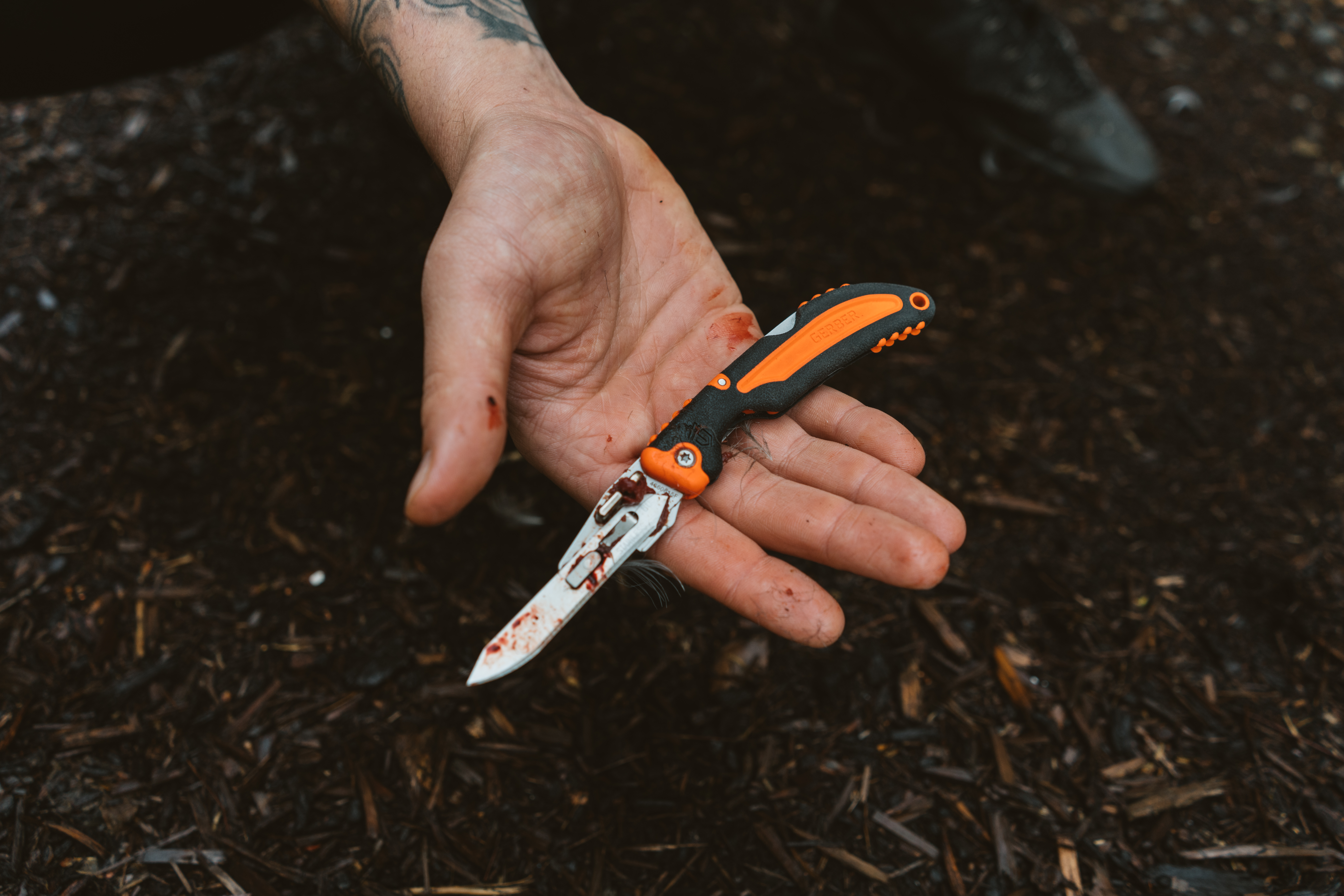 The only downside of using this knife is the cleaning of the knife after use. When field dressing an animal I typically go through 2-3 blade swaps. I use the Gerber for most field dressing except for separating joints/cutting bones and separating the skull from the spin. This leaves my Vital Pocket Folder full of hair, blood, fat and other flesh. In order to clean my knife after field dressing I soak the knife in warm water with the blade removed. If that doesn't get all the mess off, then I typically scrub with a small brush.
Overall, I would recommend the Gerber Vital Pocket Folder over other replacement blade knives out there. At that price point and with the added safety features, adding this knife to your equipment for the field is a no brainer. It is a must have on my gear list, 8 out of 10 stars.